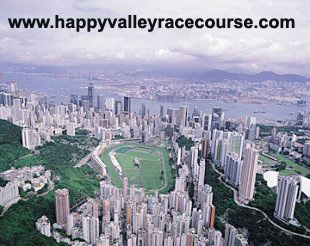 Aerial Photo Of Happy Valley Racecourse

The Heart Of Hong Kong Is Happy Valley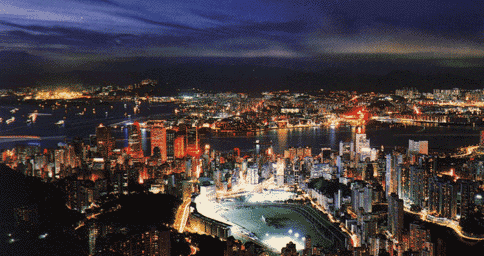 Happy Valley At Night Is A Magnificent Sight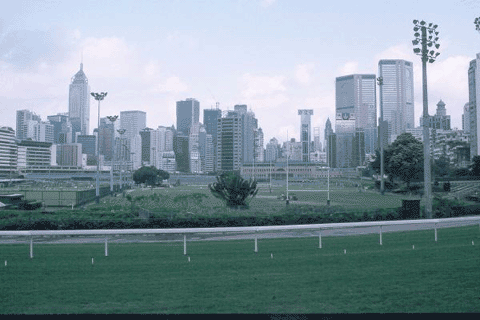 Pan Shot Across One Of Happy Valley's Turf Courses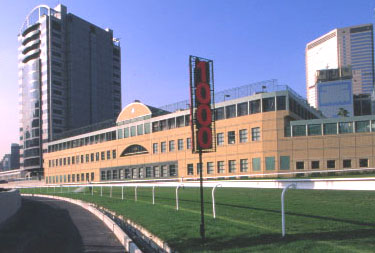 HKJC Building At Happy Valley

Be Sure to visit the Hong Kong Racing Museum when visiting Happy Valley.
The Hong Kong Racing Museum
2/F, Happy Valley Stand, Happy Valley, Hong Kong

The city's chief recreational passion — horseracing — lies in a floodlit oasis of green in the heart of Hong Kong Island. The "Sport of Kings," the only legal form of gambling in Hong Kong, is embraced with unbridled fervor. One racing season, from September to July, can pull in more than HK$91 billion. While there's a second racecourse in Sha Tin for weekend meets, nothing beats the adrenaline-charged atmosphere of Happy Valley. With its tight tracks and high stands, it resembles a Roman amphitheater. As the travel writer Jan Morris once wrote, "Happy Valley on race day is a bitter, brilliant, grasping place."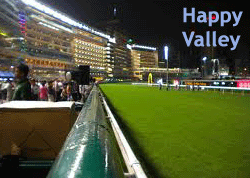 The tote on a single night at Happy Valley Racecourse is often equivalent to an entire year's betting at racetracks in the West, and indeed, on race days, it seems that everyone in Hong Kong is participating. Gambling on the horses is serious business in Hong Kong, with thousands of spectators flocking weekly to the impressive track, a green expanse with an electric atmosphere surrounded by high-rises: Residents host lovely parties on their balconies while looking down on the action.

Night races are particularly interesting, with bright lights, a frantic atmosphere and big winning payouts. An enormous 20x5.8 meter video screen surrounding the racecourse displays the races in progress, as well as all racing forms, manners of betting, and other relevant details. Hong Kong Racing is thriving, with wagering up 33% since 2006 to U.S. $10.3 billion. Hong Kong is also known for large quality fields of horses. The average field size is currently 12.5 starters per race.
Hong Kong's favorite sport is making money, and in horse racing you have Hong Kong's favorite money sport. Billions are spent every year at the Happy Valley racecourse, an oasis of green in the middle of the city. Happy Valley is known as "pow ma dai", which roughly translates as "horse race place". It is a hint at the relevance the key attraction in this leafy residential area has to the local Cantonese.
Happy Valley has been home to Hong Kong horse racing racing since 1846. The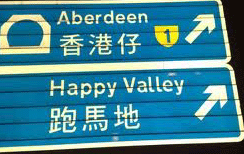 city virtually grew up around the racecourse. Racing not only continues today in Hong Kong, but continues to thrive. With only plans to expand racing in Hong Kong. Happy Valley in particular looks to have a bright future. The possibilities are limitless. Happy Valley Racecourse is truly a treasure for Horse Racing fans everywhere.

Happy Valley Racecourse 跑馬地馬場
2 Sports Rd., Happy Valley, Hong Kong Island
(852) 2895 1523 or (852) 2966 8111
Races usually held Sept.-June on Wed. and weekends (first race 7:30pm)
Admission: HK$10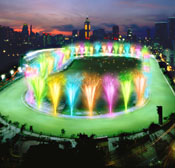 Entry via Wong Nai Chung Road. Take the Happy Valley tram, which runs east-west along Hong Kong Island, to the end of the line and walk across the road to the track. Alternatively, catch the public railway system (the MTR) to Causeway Bay and follow the signs to the racecourse. Taxis from Central cost about $HK40. More information for tourists.
HK Millennium Celebration Happy Valley Racecourse pictured right.